Kitchen Adventures || Chocolate Peanut-Butter Power Bites
Hey lovebirds! It is Valentine's Eve and there is heart shaped chocolate literally EVERYWHERE I look. I am not
 afraid to admit that I have a major sweet tooth. I love desserts. I love candy, cookies, ICE CREAM, all things sweet. I am a bit of an anomaly with my sweet tooth, however, in that usually 1 or 2 bites will crush the craving. I WILL eat a whole bowl of Blue Bell cookies and creme ice cream because it's delicious and I love it, but I can also be satisfied with a couple of bites.
This week I've been getting hungry between meals more often than usual. Not sure what's up with that, but I've been wanting to snack like a maniac and it's mostly been cravings for sweet. I can't imagine why when all I see wherever I go is big red and pink boxes full of delicious treats 😉
Anyway, I wanted to give you guys something a little different today. I did make some good meal prep stuff this weekend, but we'll save that because I wanted to give you a good snack option that is EASY and super tasty and will help you crush those cravings while also giving a little energy boost!
Check it out. This recipe is all raw, customizable, quick and easy, and great as a take along. You can adjust the amounts of most of the ingredients to fit your taste preference. Even leave some ingredients out or choose another ingredient if there's something you don't like! The base is the same no matter what so make it what you want!
Chocolate-Peanut Butter Bites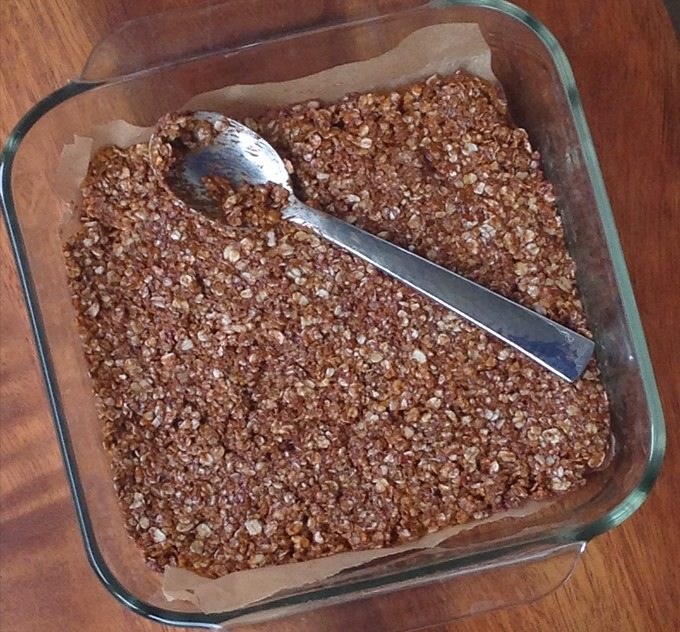 INGREDIENTS
1 cup raw almonds
1/2 cup raw pecans
1/2 cup old fashioned oats (uncooked) – more if needed for texture
Pinch of sea salt
2-3 TBSP peanut/almond/sunbutter – your choice – amount depends on taste preference
1-2 tsp unsweetened cocoa powder – also depends on taste preference
1 scoop of protein powder *optional
8-10 large pitted Medjool dates, (very soft)
½ tsp. vanilla extract
4 teaspoons coconut oil – in liquid state
I also love to add things like chia seeds, flax seeds, cinnamon, etc… whatever you want!
INSTRUCTIONS
Place nuts, oats, salt, cocoa powder, and protein powder if using in the bowl of a food processor; pulse briefly until the nuts are chopped and the ingredients have begun to combine (don't over blend as you'll be adding more ingredients)
Add dates, vanilla, peanut-butter, and coconut oil. Pulse until all ingredients are just combined and mixture starts to clump. You want the mixture to stick together, but not be too sticky to the touch. You can adjust by adding more coconut oil or peanut butter if it's too dry or add more oats if it's too wet.
Line a 9×5 loaf pan with parchment paper. Transfer mixture to pan, and use the back of a spoon to press mixture into a rectangle. Cover and chill in the fridge or freezer until firm (usually about 20:00 or so).
Unwrap block, lift out paper and cut into bars or bites. You can rewrap each bar in paper or just place them in a ziplock and store in an airtight container in the fridge or freezer.
*NOTE: These do hold together better if they're kept cold. When warm the mixture starts to fall apart. It's still edible.. just more of a blob than a bar or bite 😉