#TBT – It's HOT! Let's Hydrate!
Today we are kickin' it back to an article Coach Tim wrote last year. We are in the midst of 100° days and when you're sweating it out like we do, you have to be putting it back in. Check out some wise words from a wise man while you enjoy a nice, cold glass of H20!
H2O is Mo' Better! || Coach Tim Garland
The first official day of summer has arrived. As our bodies adapt to the heat and humidity that this season brings us, you hear your coaches tell you to make sure you are drinking plenty of water. What is "plenty"? Why is it so important?
Many of us know that water comprises the majority of our body. So making sure that we are consuming an appropriate amount of this clear, flavorless liquid is a no-brainer requirement for optimal health. Now, imagine yourself this summer hiking the Greenbelt, completing your WOD, or sitting by pool/river/lake for countless hours…without any water. Thirsty thoughts? Thirst is often thought of as an alert for the beginnings of dehydration. According to Merriam-Webster, dehydration is defined as;
Dehydration– an abnormal depletion of body fluids
I don't think anyone would argue that the aforementioned activities could bring on the onset of dehydration without appropriate measures being taken. Most of us have heard the 6-8, 8oz. cups of water per day as the standard for water consumption. Yes, this is standard. However, just as our nutritional fingerprint differs from individual to individual, so should our water intake. We all come in different shapes and sizes and participate at different levels in vastly different activities. Additionally, depending on our current state of health, some systems are more efficient than others at regulating the needs of said activities. Without throwing specific recommendations out there for person A, weighing 'x' amount at such and such height yada-yada ya…here are some dehydration indicators to be aware this summer to help you key in on your health, thus your performance, as it pertains to water intake.
A few symptoms have been identified as;
Little to no urine, or dark yellow/amber hued urine
Headaches
Dizziness/lightheadedness
Dry mouth
Confusion
Conversely, proper hydration helps eliminate the chances of these occurring, and can aid us in;
Regulating core body temperature
Lubricating our joints
Keeping our kidneys and liver healthy by flushing out toxins and eliminating waste
Helps carry oxygen and nutrients to our cells and tissues
Are there other sources to help me stay hydrated other than JUST water? Yes. Although here, water is king, here are a few other ways to sneak in the liquid. Fruits and vegetables contain small amounts of h2o, as well as their juices. Keep in mind that the juices may have unwanted calories due to added sugars. Coffee and teas also contain water, but caffeine can act as a diuretic and lead to frequent urination and counter our purpose.
All in all, plan and prepare for your daily activities.
Be aware of your environment (heat and humidity) and what your body is telling you
Keep a mental note of your previous 12-24 hours of water intake
Keeping a water bottle with you throughout your day will help you monitor your water consumption
Adjust your consumption as needed to fit your daily activity level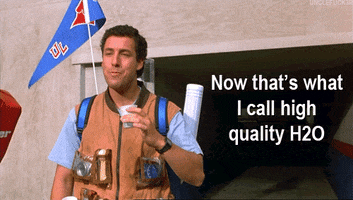 "Mama said Gatorade is the devil"
Train smart, live smart,
-Coach Garland